Using Thermal Insulating Coatings for Long-Term Energy Efficiency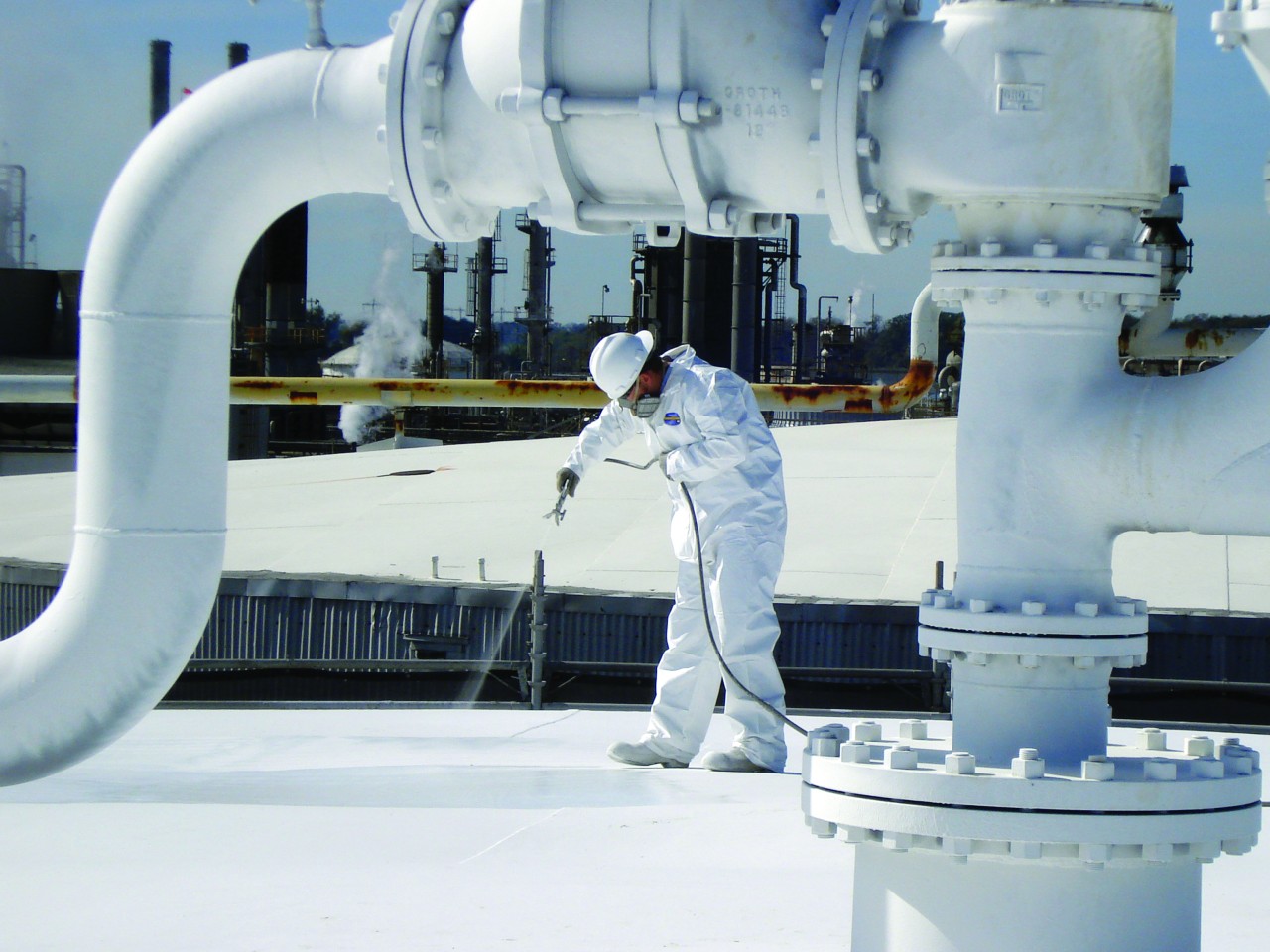 With energy efficiency and use reduction becoming ever more important with volatile prices and international conflicts straining fuel sources, industrial facilities of all kinds are tasking their employees to reduce energy needs and conserve energy wherever possible. Not only does conserving energy when possible save money, it also helps to reduce emissions to meet C02 goals imposed by companies and governments. When these discussions come up, insulation is always a topic of conversation because there is a myriad of materials out there that can help save and recapture energy instead of letting it escape. An issue not often thought about is insulation lifetime, and one of the major problems for all kinds of industrial facilities is aging insulation.
Most conventional types of insulation are installed by wrapping or affixing the insulation on the equipment and then following with a protective jacketing if needed. This is easy enough on pipes and cylindrical vessels, but anytime the geometry becomes more complex, the margin of error for gaps in the jacketing is increased. Those gaps not only let energy escape but also allow moisture to enter the system. Water not only can lead to CUI but is also a wonderful conductor of heat (energy) and any water in the system (whether saturated in the insulation or not) will decrease the thermal efficiency of the insulation. Over time, the insulation system can become more and more compromised from wear and tear, weather events, etc. Ongoing costs will include inspection programs, remediation when needed, and stripping and reinstallation of insulation, depending on the severity.
Complex geometry can also influence the decision to not insulate equipment at all. For example, many valves, flanges, and other intricate pieces of equipment are sometimes left uninsulated because the risks described above can make this a more attractive option.
According to a white paper by the EiiF (European Industrial Insulation Foundation), "avoidable CO2 emissions in the industry come from equipment without insulation or covered with damaged insulation." [1] The white paper also states that around 10% of insulation on equipment running below 100˚C (212˚F) and 6% running between 100-300˚C (212-572˚F) is missing or damaged.
There is a type of insulation that bonds directly to the primer or substrate and requires little-to-no maintenance for more than 25 years once applied – Thermal Insulating Coatings (TICs). Sometimes called Thermal Insulative Coatings, the unique and widespread technology has been on the market since the early 1990s. While initially viewed skeptically by the marketplace, the coatings have gained widespread acceptance by industries of all kinds around the world. This acceptance was gained through long-term successful applications, extensive third-party and manufacturer testing, and inclusion on standards and recommended practices from organizations like API and AMPP/NACE. The coatings are unique in the insulation category in that they are applied like a coating and bond directly to the substrate or primer with no internal environment for moisture to collect. While the coatings do not offer the same energy efficiency as thick, brand-new insulation, they can offer consistent energy savings for the life of the coating, provide long-term asset protection by preventing corrosion under insulation, keep personnel protection safe from contact burns, and are easily applicable to complex geometry.
Mascoat has been providing TICs since 1995 in the form of its flagship product, Industrial-DTI (MI-DTI) and has applications that have been in service just as long, even on the storm-prone US Gulf Coast. The coating has been used many times to replace conventional insulation that has been ripped off in these storms because it is not susceptible to wind damage like jacketed insulation. The coatings can withstand a +250psi pull, and a 150 mph (240 kph) wind has approximately 0.402 psi, so the coating is very resistant to high winds.
If the coating is damaged by flying debris, the damage is localized to the point of impact and if left unchecked, corrosion will not spread underneath the coating like with conventional insulation where water and corrosion can spread throughout the system. Mascoat has several third-party tests that show the coating's consistent performance after long-term exposure to Salt Fog, QUV, and Humidity chambers. This is also applicable to normal wear and tear where a worker may drop a tool or otherwise damage the coating.
Tank roofs are another example of where catwalks can cause issues. By replacing conventional insulation with Mascoat, the need for a catwalk is removed because the coating can be walked upon without issue. In some heavy traffic areas, a topcoat can be applied for added durability.
In situations where conventional insulation is deemed necessary (usually on sidewalls), the coating offers great versatility in working with other technologies. Mascoat has a Tank Insulation Design Guide that spells out various ways to combine various technologies depending on each facility's needs. Please contact Mascoat for a copy of this guide. Whether it is to deal with flood risks around the bottom of a tank or wanting to stop moisture ingress around complex geometry, there is an answer to help mitigate risks while getting the most energy conservation possible.
Companies today are tasked with reducing costs, whether it be through energy consumption or maintenance, among many others that must be scrutinized when deciding on company and facility priorities. By partnering with a trusted supplier that has worked in all types of industries around the world like Mascoat has been doing since 1995, companies can balance their energy conservation measures with the needs of maintenance and safety departments.



[1] European Industrial Insulation Foundation (2020). Decarbonizing Industry with Rapid Payback - How mandatory requirements for industrial insulation will deliver 10% to reach the EU's 2030 energy efficiency target.
Stay Informed
When you subscribe to the blog, we will send you an e-mail when there are new updates on the site so you wouldn't miss them.