Mascoat Industrial-HR (highly reflective) insulation coating is designed to thermally insulate substrates and contains highly reflective particles that help block the sun's UV rays. By blocking these rays, the coating efficiently reduces the amount of solar loading from the sun which can raise internal temperatures.
Unlike reflective rooftop coatings, Mascoat Industrial-HR is a multi-use product specially formulated to withstand the rigors of an industrial environment. It is a microscopic matrix of air-encapsulated particles which are suspended in a high-grade acrylic binder with highly reflective ingredients to reflect UV rays. The coating's high-tech formulation is designed to be spray-applied, improving equipment aesthetics while protecting substrates, safeguarding contents and preventing corrosion.
Gasoline storage tanks, in particular, need to be insulated against radiant heat gain to maintain product levels and integrity. Unnecessary heating from the sun in these tanks can lead to liquid gas turning into a vapor. This vapor is highly explosive and must be vented into the atmosphere regularly to ensure the integrity of the tank and the product within. By using a product with the superior formulation of Mascoat Industrial-HR, companies will save money on lost product and reduce harmful emissions to the environment.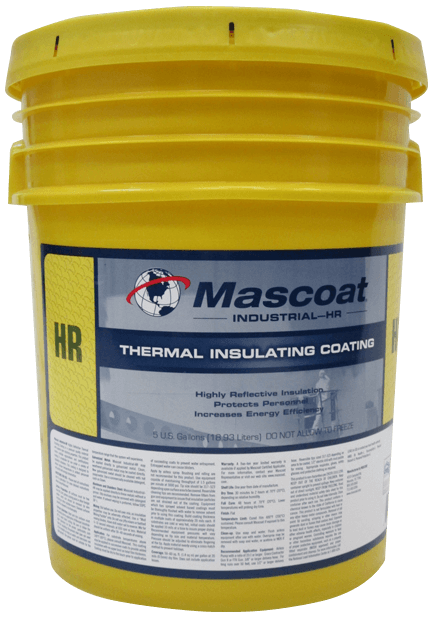 BENEFITS & FEATURES:
Efficiency: Saves installation time when compared to conventional insulation methods
Performance: Maintains integrity and performance with regular foot traffic
Easy Install: No cutting, taping or special fabrication necessary
Prevents CUI: Eliminates the potential for surface corrosion or corrosion under insulation (CUI)
Safety: The coating is a non-combustible, non-flammable, Class A fire rated product
Water Based: One-part coating and has no "pot life"
Temperature Range: Can be applied to working substrates up to 300°F (193°C)
Lightweight: 5.74 pounds per gallon (0.69 kg/liter) and approximately 0.058 lbs./ft2 at 20 mil DFT (0.28 kg/m2 at 0.50 mm DFT)
Easy to Touch Up: Can easily be touched up after minor structural repairs
Industrial-HR is available for purchase in 5-gallon pails and comes in our signal white color. To order, please contact us today!