Mascoat Industrial-DTI is designed to be a multi-purpose coating, providing insulation, protecting substrates and personnel, and preventing corrosion under insulation issues. This industrial thermal insulation coating product fulfills niche market areas of temperatures under 350°F on all types of substrates. It is available for sale in 5-gallon pails and colors including black, white, light gray, and gray.
Mascoat Industrial-DTI thermal insulating coating works not only to reduce temperatures but also provides energy savings, thermal insulation, and personnel protection all in an easy spray-on application. The product is applied in 20 mil (0.50 mm) coats directly to the substrate or primer. It provides excellent protection against surface corrosion and corrosion under insulation (CUI). Industrial-DTI thermal insulating coating employs only the best materials and has been specifically engineered in our own formulation lab for thermal insulating performance and long-lasting durability. Our coatings are capable of sustained working loads of 350°F (177°C). When companies are adhering to industry standards like NACE/AMPP TM 24213 concerning personnel protection and API RP 583 concerning Corrosion Under Insulation, Mascoat Industrial-DTI helps to protect people and surfaces alike.
To learn more about how insulating coatings can help reduce maintenance over the long term, please visit our Education Section.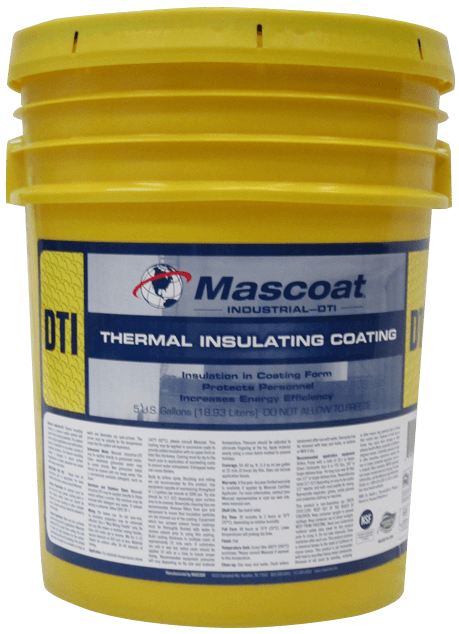 BENEFITS & FEATURES:
Cost-efficient: Saving total installation time when compared to conventional insulation methods
Easy to install: No cutting, tapping, or special hangers; No special fabrications needed
Versatility: Adheres to virtually any material and eliminates the potential for surface corrosion or corrosion under insulation (CUI)
Non-Combustible: The coating is a non-combustible, non-flammable, thermal insulation Class A fire-rated product
Safe: Water-based, one-part coating and has no "pot life"; Contains no harmful chlorides
Temperature: Can be applied to working substrates up to 300ºF
Lightweight: (5.0 pounds per gallon), Approx. 0.07 lbs./sq. ft. at 20 mil DFT (0.50mm)
Easy Touch-Ups: Can be easily touched up after minor structural repairs
Enhanced Insulation: Successive coats will increase insulating capabilities
INDUSTRY APPLICATIONS:
Mascoat Industrial coatings have thousands of applications across many industries, such as the ones below. Visit our Industries Served section to learn more about specific applications.
Paper Mills
Asphalt
Petroleum Refining
Sugar Mills
Storage Tanks
Food Processing
Transfer Pipelines
Chemical Refining
Go to our Success Stories section to learn about how Mascoat Industrial coatings provide energy savings, personnel protection, radiant heat gain prevention, and condensation reduction while reducing long-term maintenance.