Mascoat Industrial-DTI is designed to be a multi-purpose coating, providing insulation and solving corrosion under insulation issues. This industrial thermal insulation coating product fulfills niche market areas of temperatures under 350°F on all types of substrates. It is available for sale in 5-gallon pails and colors including black, white and gray.
Industrial-DTI thermal insulating coating works not only to reduce temperatures but also provides energy savings, thermal insulation and personnel protection all in an easy spray-on application. The product is applied in 20 mil (0.50 mm) coats directly to the substrate or primer. It provides excellent protection against surface corrosion and corrosion under insulation (CUI). Industrial-DTI thermal insulating coating employs only the best materials and has been specifically engineered in our own formulation lab for thermal insulating performance and long-lasting durability. Our coatings are capable of sustained working loads of 350°F (177°C).
NOTE: The industrial version is NOT a reflective rooftop coating applied to the industrial market.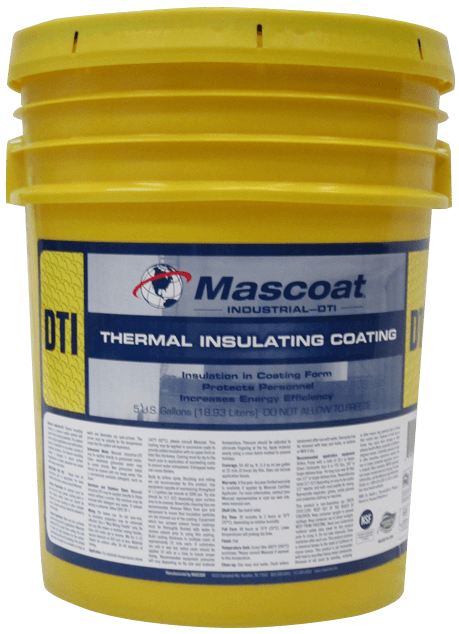 BENEFITS & FEATURES:
Cost-efficient: Saving total installation time when compared to conventional insulation methods
Easy to install: No cutting, tapping or special hangers; No special fabrications needed
Versatility: Adheres to virtually any material and eliminates the potential for surface corrosion or corrosion under insulation (CUI)
Non-Combustible: The coating is a non-combustible, non-flammable, thermal insulation Class 1 (A) fire rated product
Safe: Water-based, one-part coating and has no "pot life"; Contains no harmful chlorides
Temperature: Can be applied to working substrates up to 300ºF
Lightweight: (5.0 pounds per gallon), Approx. 0.07 lbs./sq. ft. at 20 mil DFT (0.50mm)
Easy Touch-Ups: Can be easily touched-up after minor structural repairs
Enhanced Insulation: Successive coats will increase insulating capabilities
INDUSTRY APPLICATIONS:
Paper Mills
Asphalt
Petroleum Refining
Sugar Mills
Storage Tanks
Food Processing
Transfer Pipelines
Chemical Refining